Monuments
The Church of the Assumption of the Blessed Virgin Mary the Victorious in Lublin is one of the oldest and most beautiful sacral buildings of this region of Poland. The temple itself represents a unique, preserved almost without changes Gothic architectural form. It has a precious historical value. In addition, it has more than 250 movable and permanent objects that constitute its furnishings and decor. This sub-page presents only some of the selected monuments of the post-bridgettines church.
Details

Category: Monuments
The church and the monastery were founded by Władysław Jagiełło as a thanksgiving vote for the Grunwald victory. The prisoners of the Teutonic Order worked there and lived in the village called Germans ( because of them) near Lublin. Due to the fact that the buildings were located outside the city walls, they were frequently attacked, robbed and destroyed by consecutive invaders.
The church was built in a Gothic style of stone, brick, and part of the pedestal from boulders. Its peculiarity is the asymmetrical division of the interior into two aisles. The original Gothic body of the church has survived to this day without any significant changes. Only its characteristic slimness was lost by the ground constantly rising around the church. The evidence are four-level stairs leading down to the lower aisle and the side entrance with the historic Gothic portal bricked up many years ago, which is located in the northern wall of the building.
Details

Category: Monuments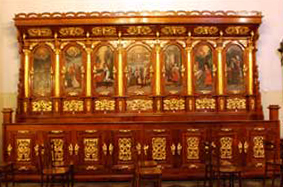 The cycle consists of 17 paintings depicting fragments of St. Bridget's life and her revelations. Some of them also include people from her immediate family. They were incorporated to the decor of the church when the abbess was Dorota Firlejówna (1632-1660). She introduced stalls (wooden or stone benches, usually very richly decorated) to the chancel. Their original 17th century arrangement was as follows: the chancel was circled by the stalls from two sides of the main altar so that they reached and encountered it on both sides. On the right side there were eight pictures, nine on the left.